Author Céline Schillinger Shortlisted for Thinkers50 2023 Distinguished Achievement Awards
We are delighted to share the news that Céline Schillinger has been shortlisted for the Thinkers50 2023 Leadership Award for her book Dare to Un-Lead: The Art of Relational Leadership in a Fragmented World.
Dare to Un-Lead is shortlisted alongside seven other titles in the leadership category of the Thinkers50 2023 Distinguished Achievement Awards, which recognize "thinkers" who shed light on the role of leadership.
Schillinger's book explores how contemporary organizations can transform leadership from a top-down hegemony to one that empowers people to lead together through the concepts of liberty, equality, and community.
It has been described by Thinkers50's Amy Edmondson, as "sweeping and intelligent, deeply researched and penetratingly insightful," and was listed in the Thinkers50 2023 10 Best New Management Books.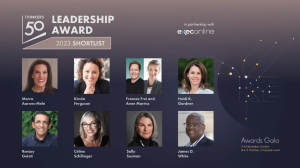 The award recipient will be announced at the Thinkers50 2023 Awards Gala in London on November 5—6, 2023.
Learn more about the award and the finalists here.
August 4, 2023