Mike Leyne: Where to Read in Vancouver
During Vancouver's brief, wondrous spells of sunshine it is illegal to be indoors—offenders are sentenced to re-education hikes up the Grouse Grind, alongside clockwise Stanley Park seawall cyclists and early morning SkyTrain talkers. If you're in the yard-less majority this means you need to find a quiet, comfortable outdoor space to read. Here are my favourite spots:
The West Side is rich with waterfront reading spots, but in the shadow of The House that Yoga Pants Built lies a particularly quiet stretch with spectacular views of English Bay, and commissioned graffiti—ideal for reading. Just watch out for empty bottles of Dom tossed from above. Recommended read: Capital in the Twenty-First Century, by Thomas Piketty.
Surprisingly secluded, and steps away from transit and bike paths. Distractions during the day include civic celebrities and protests, but in the evening it's just you and your book. And rats. Watch out for the rats. Recommended read: Class Warfare, by D.M. Fraser.
If you visit here too soon after Westbeach Beach you may get socioeconomic whiplash, but this spot offers the most diverse and interesting distractions: mountain views, container cranes, a railyard, tent cities. The smaller beach west of the pier is quieter, but watch out for Helijets coming in hot and cruise ships heading out to Kool and the Gang. Recommended read: Gather the Daughters, by Jennie Melamed.
This fake island in False Creek is frequented by real cops who will ticket you for living up to the island's adopted name, but it has great scenery and a beachy vibe. Watch out for whooping party boats and arena acts sound-checking across the water. Recommended read: The Next Nature Book.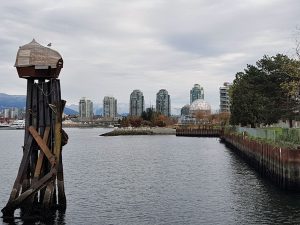 Mike works with authors throughout the book creation process to help them produce their best possible work. He studied political science at the University of Victoria and publishing at Simon Fraser University, and worked previously with an independent literary press in Vancouver. His days off are devoted to reading fiction, exploring beaches and parks, and not catching any fish.
November 7, 2017